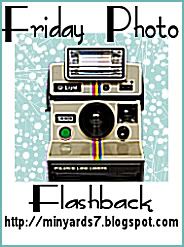 Here is my flashback photo:
And here we are again, almost 20 years to the day.

Oh, who are the two lovely ladies to the right and left of me, you say? Well, on the left is Barbara, and on the right is Alexis, and that's me in the middle, Lisa. Or, known to many as: Barb, Lis' and Lex. Lex and I go way back. We were 6 to be exact. Grew up in the same town, went to the same small christian school. We lived on opposite sides of that small town, and we would spend long summer days making our own trail through the woods, rather than walk the sidewalks to get to each other. We played Barbies until we were 14, and that's a secret! I didn't meet Barb until I went to NY, to the boarding academy Union Springs Academy. Lex had gone the year before, leaving me to fend for myself! ha! She and Barb became fast friends. There were days when I would secretly roll my eyes at how much Lex talked about her, because I was worried the new friend would become the new fave! With lots of pushing and prodding from my parents, I too went to NY, the next year. And then I could see why Lex loved Barb so much. Besides my sisters, I have never had better friends. I talk to Lex about 2-3 times a week, and each time, it feels like we have just picked right up from the last conversation. And Barb? Well, she's now my sister-in-law! She married the DiSH's younger brother, 16 months after we got married. I could not have asked for anything better than to become real sisters with one of my best friends! I could fill ten blogs with stories about these two lovely ladies! They are the greatest. I only hope I can be half the friend to them that they have been to me over the last 20+ years. :) Love you guys.